Welcome back to the Meet & Greet Blog Hop!
We would like to invite you to join in, meet some fellow Bloggers, and watch your Blog grow!
Here's how it works:
- Start by following the three hosts, and our featured guest! (First 4 links below) Leave us each a comment letting us know you're following - we would love to follow you back!
- Link up and add your blog to the list!
- Please visit and greet other Bloggers, let them know you are following and make their day!
- Grab our button if you like and share with your readers!
- Share and invite others to the Blog Hop!
- Each week one participant will be randomly chosen and featured along with the hosts!
The Meet & Greet Blog Hop will run Sunday and Mondays each week! (Our Hosts are in different time zones. The Hop will be open long enough so each time zone is open for Sunday and Monday.)
Laurie
- from Created By Laurie is from Honolulu, Hawaii. Laurie creates handmade custom stuffed animals and embroiders them to personalize! Laurie blogs about life with her munchkin, projects, weekly giveaways and loves to share funny pictures!
Kim
- from 2 just B you is from Northern California. Kim is active with her creative family! They work together and create handmade gifts, and homemade delicious sweets! Kim shares fun crafty ideas and recipes in her blog, shares about her Mommy adventures, and has great giveaways!
Sara
- from FlowerLandShop is from Rome, Italy. Sara has a wonderful talent creating whimsical and colorful polymer clay jewels, home decorations and animal figurines! Sara's colorful blog shares her projects, ideas, and some of her favorite finds on Pinterest!
Featured Guest
Katie
– from My Crazy Crafty Life is from Washington. Katie loves all things crafty, eco-friendly, and fabulous. Her blog will show you some of her favorite craft projects, recipes, and products! Grab Our Button!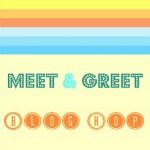 Link Up and Have Fun!